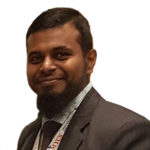 As a founding member of GCL, Asiff today leads the logistics team responsible for import-export and associated activities at GCL. He directs and controls shipments, co-ordinates with overseas suppliers, manages budgets, insurance, policy and compliance matters. 
During this stint at GCL, he streamlined the logistics function, established processes, enabled HSE compliance, optimized costs, and effortlessly handled several complex deliveries for our customers. Before taking over as AGM in 2015, he was business development manager responsible for client relationships. 
In addition to his post graduate degree in International Business, Asiff brings with him over 14 years of experience in the fright industry in the Middle East, contributing every day as a pillar of process-driven approach and strong leadership. 
You can reach him at asif@gcl-china.com