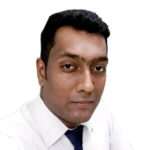 Ananth is the head of sales at GCL Corp, Oman, holding direct responsibility for lead generation, partner relationship management, and marketing and promotions. 
He began his stint at GCL as a foot soldier — Sales Executive — contributing to market research, customer profiling, and expanding the customs clearance and forwarding business verticals. Since then, he's grown to lead a team of young and dynamic sales professionals towards developing meaningful relationships with our customers. 
Before joining GCL, Ananth performed sales duties for IFB Industries and KAIL in India. He holds a post graduate management degree and is fluent in four languages — English, Hindi, Gujarati and Tamil.  
You can reach him at ananth@gcl-china.com